 MOH BRONZE, SILVER AND GOLD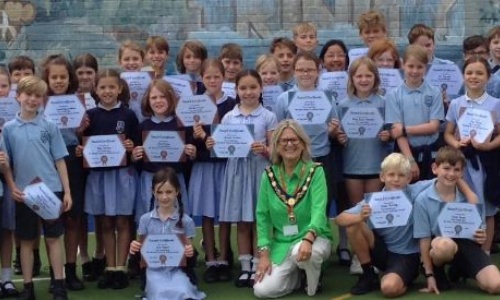 Year 4, 5 and 6 children took part in their Bronze, Silver and Gold Expeditions this term. The Mayor of Henley came to present their certificates in school this week.
Throughout the year children have worked hard completing their skills, physical and faith sections. Children have been learning instruments, learning to cook, feeding the needy and raising money for charity (to name just a few!).
The Bronze expedition was slightly longer than planned at about 6 miles but the children managed so well on a very hot day.
The Silver Expedition took us 8 miles over hills, through golf courses and fields. The children were fantastic and very resilient!
The Gold Expedition also took us through fields, up hills and over golf courses and ended in a camp out on the Trinity Paddock! We managed to successfully pitch our tents and enjoyed snacks, a good game of cricket and cards (we even managed to get some sleep!).
Thank you to all staff, parents and children for their support, enthusiasm and hard work this year!